Discover who could trade in the Legacy Single Electricity Market and the rules that underpinned the market operation.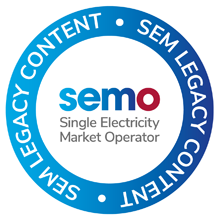 Buying and selling in the Legacy SEM
There were two unit types who could register to buy and sell in the Legacy SEM  – Generator Units and Supplier Units. All entities who wanted to buy or sell energy in the Legacy SEM completed a registration process. SEMO's role was to facilitate this process and educate market entrants where needed.
Generator Units
Generator Units covered entities which could deliver energy to the Legacy SEM. This included Interconnectors in both import and export mode, and Demand Side Units which offer demand reduction.
Similarly to the current SEM, the Legacy SEM was regulated through a process of rules and modifications. Find out how the Legacy SEM was managed.
Market Rules
The rules for operating in the Legacy SEM were provided in a combination of the:
Trading and Settlement Code
Appendices to the code
Agreed Procedures
Effective modifications not incorporated into the main text of the code
Under the Legacy SEM, the Trading and Settlement Code was published twice a year. It was updated at the same time as the Scheduled Release of the Central Market Systems. This was because some modifications needed both code and systems changes to come into effect.
Regulatory Affairs
The Regulatory Affairs Group worked across many different stakeholders on various regulatory issues that may impact them.
The group also had responsibility for:
Delivering the Market Systems Development Plan
Coordinating SEMO Price Control submissions
Managing compliance obligations for the two Market Operator Licenses (EirGrid and SONI), and for the Trading and Settlement Code
Market Analysis
The Market Analysis team developed Market Rules to further the objectives of the Trading and Settlement Code. Their work included analysing policy decisions and their impact on the Market Rules, SEMO Market Operations, and the Central Market System.
Market Analysis also had responsibility for:
Representing SEMO on the Modifications Committee
Proposing modifications to the Trading and Settlement Code
Working with Market Participants, System Operators and Regulatory Authorities to enhance the operation of the market
Monitoring developments in other electricity markets
Co-ordinating responses to energy policy consultations
Modifications
Any proposed modifications to the code were assessed and progressed by the Modifications Committee. The committee could organise Working Groups or public consultations to consider the impact of a proposal before making a decision.
See historical modifications